CATS PROTECTION
The Cattery Design book
is 'one of a kind'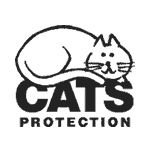 "As the UK's leading feline welfare charity, Cats Protection is very pleased to be involved with a book that emphasises the importance of providing the best possible environment for cats"
Customers
Comments
"Well, I have just bought my copy of the Cattery Design book, and WOW what a book!! What a masterpiece!"
More ...
"I am now going to drool over your wonderful book for many days to come. Everything I wanted to know about is in there, fabulous!"
More ...
"Just had to thank you so much for the prompt delivery of your cattery design book. What a fantastic book - we are delighted with it! It is so informative and well produced - a real quality book; worth every penny!"
More ...
"I have been reading your book for the last hour and it really is inspiring! If good aura & enthusiasm could be bottled and sold, you two would be millionaires many times over. You do such a good job."
More ...
"I have read the book and the ebook and think they are marvellous! They are both very easy to read and full of useful information.

I felt like you were talking to US! "
More ...
I would just like to thank you on your brilliant book. I am trying to open a small scale cattery in the suburbs and have hit so many obstacles I have almost thrown the towel in on several occasions!

But I go back and look at that particular section in the book and I find things I may have missed that steers me in the right direction. You have included so much detail in an easy to read fashion.

Your book is very well designed and is my complete instruction 'bible' at this moment.
Thank you
More ...
"The photos are very good and the text well thought out and unambiguous, and I loved the quotes! From our point of view, it is a pity the book was not published a year earlier!

I am sure it will become a potential cattery owners bible! Congratulations on all your hard work."
More ...
"Congratulations, I know I'm not going to be able to put it down. I'm going on holiday tomorrow, so the summer read has gone out the window! and I'm reading the Cattery Design book instead (far more interesting)"
More ...
"Thank you so much for sending me the wonderful book - it's so great and I wish it had been around when we were starting up. I couldn't put it down over the weekend and got through hundreds of pages."
More ...
"Thank you for all the information. I have found it extremely helpful and now know where to start!"
More ...
"Thanks so much, Kay. This looks awesome!! . I ordered the Cattery Design book from Amazon.com yesterday and I'm looking forward to getting that, too."
More ...
"Your ebook was so inspiring and knowledgeable.
I have been considering opening a cattery and this book has helped me with so many questions and the enthusiasm to go for it."
More ...
"Back in 2006 I came across your website and downloaded 'Creating a successful boarding cattery'. To say I was taken by how well written I found it, as if Kay was talking (writing) to me personally is an understatement.

I then purchased Cattery Design and have gone on to undertake a diploma in Kennel Management.

This [Starting a Cattery] kit is superb and you have helped me (us, my entire family is looking forward to the day when we can either start from scratch or purchase and enhance a cattery) in motivating to do this and open a facility that I know is needed.

I am looking forward to establishing a facility that you would be proud to come and visit and our residents the cats, can't wait to return to.

Discussions are well in hand with financial advisers so we can get this dream off the ground.

You have helped enormously and I thank you for your inspiration and having taken the time to create such a wonderful and helpful web site and range of material. My very best regards"
More ...
Our Cats
Book Review by
OUR CATS Newspaper

"Put this book on your "Wish List" now or decide to treat yourself to a fascinating and useful book to treasure forever! The photos alone make this a beautiful book and the text will fill you with inspiration."


By Ms. B. Dugen Cheshire, England)


The book arrived, and three days later I have not put it down!
In my case it has confirmed that my initial 'big ideas' are right, I do have what it takes, and before i even picked up the book I was a pioneering cattery owner without even knowing it!
But the book has opened up avenues that I had never even thought about, and has steered me to see the bigger picture.

In a nut shell, if this book was on sale for £500, I would still buy it!

Essential reading for anyone considering starting, building or updating a cattery!
Step-by-step cattery building guidance & advice
from expert David Key on plans, construction, materials, equipment and all aspects of your design.
This complete reference guides you through all the options you need to think about before building or updating your cattery.
Cattery Design:
The Essential Guide
to Creating Your Perfect Cattery
by David Key

Foreword by Cats Protection


Stunning hardback book with full colour photos and pages, full of ideas & inspiration
from
UK
USA &
Canada

Lavishly packed with over 400 large colour photos, many of which are full-page or double-page spreads showing lots of detail

... just like looking through a window!


Cat welfare experts help you better understand and incorporate cat welfare knowledge into your design to improve it beyond measure.

Fascinating case studies from successful boarding catteries, and world-renowned charities such as BCSPCA, Blue Cross, Cats Protection, FAB, RSPCA and Wood Green Animal Shelters.
Are you considering a career as a caring and professional cattery owner? Are you having problems finding where to get straight, unbiased answers to your questions about where to start, or what are the best cattery designs?
Have you been to your local cattery and come out thinking
"I can do MUCH better than that"?!
Do you want to find out what it's like to completely change your lifestyle and income doing something you LOVE - spending your day with cats?
Then you've come to the right place!
Over the last 20 years I've been designing animal facilities professionally, working for one of the most well known UK animal rescues, The Blue Cross (as well as helping many others). I've also had the privilege of assisting thousands of animal lovers worldwide to become facility owners themselves.
I use my knowledge and experience to help people create MUCH better facilities for our cat friends... to reduce cat stress, have a much happier time in the cattery, or get adopted sooner. (Click here if you'd like to read more about my experience...)
Working for a big rescue for such a long time, you can just imagine the breadth of cattery facilities, suppliers, products, materials and level of care I've seen - from cruel to amazing.
---
So I decided to do something to help more people build BETTER facilities, and we started writing our books and websites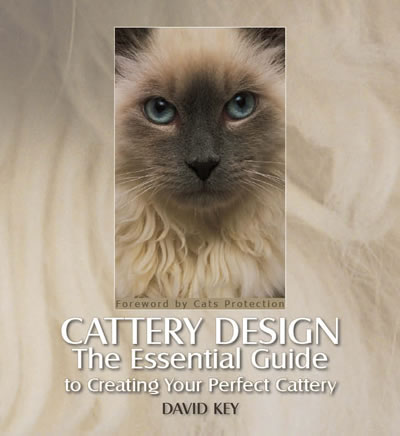 My latest book, Cattery Design: The Essential Guide to Creating Your Perfect Cattery is a BIG BOOK and totally unique - described as "one of a kind book on cattery design" by the UK's leading feline welfare charity Cats Protection - who wrote the Foreword to the book, as well as providing some of its fascinating cattery case studies.
But we didn't stop there with our rescue case studies for the Cattery Design book!
We also included the world-renowned BCSPCA, RSPCA, FAB, Blue Cross, and the Wood Green Animal Shelters as well as top boarding catteries and cat hotels - all our case studies are from the UK, America and Canada.
We searched worldwide to find some of the best and most successful boarding and rescue catteries to include as case studies, with BIG colour photos, descriptions and insider information on what makes their catteries so unique, successful, and financially viable.
We provide facts, statistics, advice & design guidance with real-life examples, layouts, and 100's of BIG colour photos - to give you masses of ideas, inspiration and motivation to start your own cattery... and the encouragement & facts to become one of the BEST and most profitable by providing a service that cat owners are longing for.
---
Get it RIGHT ~&~ do it BETTER !!!
---
Start learning today what it takes to start, run, and grow a successful cattery business and whether it is right for you!
You can read testimonials from customers (left) who have purchased the Cattery Design book such as:
"I am now going to drool over your wonderful book for many days to come. EVERYTHING I wanted to know about is in there, fabulous!"
Don't waste any more time hunting on the web for the detailed information you want to start your cattery - it doesn't exist!