FROM: David Key
DATE: Sunday 17/10/2021

Dear Cat Lover

Do you dream of running your own cattery , and completely changing your lifestyle and career to work with cats?

You're thinking about starting a boarding cattery – but you just don't know where to start or who to ask – or even what you should find out about. Sound familiar? You're absolutely right - it IS very, very confusing when you don't know where to even start looking!!!

Even today, with so much information on the internet - there is very little specialist information available on starting a cattery – and certainly nothing in the depth of advice you're looking for right now.

You just want to get into learning about it – but first you need to find out if it's right for you (which is very exciting!) and where you should start.

Because I help people set up catteries all the time, I know all the questions you're burning to ask to take your first steps:



I've created a special online 'Kit' to help you find out!

I'll tell you all about the 'Starting a Cattery Kit' a little later... but let me first explain who I am, and what we do to help you start up your own cattery or cat hotel...
If you haven't heard of us at Cattery Design yet, let me introduce myself to you, I'm David Key. I'm author of the best-selling book: Cattery Design and also Kennel Design (you can find these books in every Amazon online store worldwide, every well-known internet bookshop, and of course, on our websites).

The Cattery Design book looks at very different issues to this online Kit.
You can click here if you want to know what they are, but basically the Kit is ideal for you if you don't know where to start and are wondering if it's right for you.

Later, you'll see several of our customer comments where we've helped them make, (and feel confident about) their decision. Only after they've made up their mind do they then buy my book to help them design their cattery - but initially, our customers want the comfort of being walked through the 1st stage with help.

I've worked for a well known national animal rescue & rehoming charity for over 20 years and design, build, project manage and maintain all of their centres
Through my books, websites and consultancy I have had the privilege to assist thousands of animal lovers worldwide to become cattery/kennel owners, improved rescue centres and much more
My Cattery Design book includes lots of famous rescue charities and boarding catteries case studies including the world-renowned cat charity: [Cats Protection] and other famous rescues from the UK, America and Canada, advice from feline welfare experts and tons of inspirational photos
My books are used as college/university text books for kennel and cattery management and animal welfare courses

It is all this knowledge I want to share with you so together we can improve cattery standards

I use my knowledge and experience to help people create MUCH better facilities for our beautiful cat friends... to reduce their stress, have a much happier time in the cattery, or get adopted sooner.

If you would like to read more about me now, please click here - otherwise we will continue looking at getting you started...
Well, it is a BIG decision for anyone – everyone! To change your lifestyle, your career and maybe your home, start your own business, build a special cattery building. Exciting - but a big decision! This is probably the biggest change and investment you will ever make - so you need to be confident , and you need help making the right decision. This can't be 'decided' on with a day of help or a few emails or phone calls!
Also - few people would even attempt to try and help you make up your mind or think about guiding you through such life-altering and financial decisions. They wouldn't know where to start! But we do.
It is the same whether you ask someone you know who runs a cattery, trade associations or animal welfare organisations – they only have so much time to give you as they are busy running their own business, and can only fit so much in an email or phone call. And it is exactly the same for us - we can only help a limited number of people because there are only so many hours in the day.
We spent hours and hours responding to the same queries over and over again... probably the same questions you're desperately trying to find out about now.
Then it dawned on us... ...why not provide all the essential start-up information that we get asked for over and over again - but in a Kit that was really easy-to-use and understand? ... and even better actually help you make the decision about whether starting a boarding cattery is right for you, and give you guidance on where to start!
So... we created the 'Starting A Cattery Kit' with all the things you want to know about starting a cattery!
But we didn't stop there - the kit also includes the information to help you decide and how to feel confident it's right for you - and where you should start!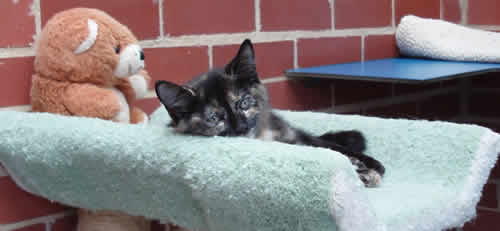 "I would love to open a boarding cattery to run myself. I just don't have a clue how to begin – help!" Jill x

If you're feeling like this, we understand exactly the frustration you are going through right now. We've received hundreds of requests for help and advice on how to start a cattery. The same is true of any business, but particularly a boarding cattery where you are caring for, and responsible for the cats and kittens in your care.

You need to make sure you get the BEST ADVICE to start off with
- and build your cattery's credibililty from there.

To create a cattery, you know there must be a set path to follow, and things you must do -- but at the moment you are probably struggling to know where to begin.

Where do you start looking?
How do you find out more about it and is it tough?
Is there anyone that can guide you?
What questions should you be asking?
How do you know if this lifestyle & career is right for you?

The fact is --- the hardest part of thinking about starting a boarding cattery is the frustration of not knowing where to start! ... and we want to save you from that!

So you're not alone – and it's not just you - it IS hard to know where to start for the first time!!! In the past, everyone who started a cattery had to go through this painful process. But not any more! - you don't have to tear your hair out wondering about it all - we can help you get all the answers you need, find out who to talk to about different things like licensing and legislation - plus all the other important things you need to know right now.

It's difficult trying to find out what to do and what not to do. I am in the throes of purchasing an existing cattery. The cattery is beautiful and doesn't need anything doing to it immediately. There's a good client base, and it has a good reputation, but there's still that nagging in the back of your mind: will it continue to be successful etc? I've wanted a cattery for a long time, but not had the opportunity before.

It's good to know you have someone you can turn to in times of crisis or uncertainty. I shall be buying your book and no doubt visiting your site again and again, very comprehensive for beginners.

Steve Halsey, Slough (not for much longer hopefully!), UK, December 2006

I'm sure you've asked yourself why is it so hard? Let's stop for a moment and think about this. Well, the answer is that once people open their own boarding cattery business they become very busy with customers and bookings and forms and advertising and their website, and so on. This means that no-one has the time to help anyone else through the process – and maybe they reason that if they managed it without help, so can others.

Most importantly, are they willing to help someone who is a potential competitor? Some catteries set up day courses costing a few hundred pounds, dollars or euros) so you can go and work with them for a day and 'try the hat on', ask a few questions and find out how that particular cattery runs. This can of course, be very valuable experience... but you should be aware that what they teach may NOT be best practice!

The truth is that existing catteries or related organisations simply CANNOT give you the sheer amount of time, hand-holding and advice you need in the depth that you require to help you decide if it's right for you.

I didn't know how to start and you gave me a lot of things to think about! Yes, I think this did help me! I am at a crossroads in my life right now and have always wanted to work with animals in some capacity. Now I am seriously thinking about opening a cattery. I will start on my research and hope for the best! Thank you for such an informative website! It was most helpful

Sheri Lockhart, British Columbia, Canada, October 2006

What you need is someone willing to take the time to provide you with the extra advice --- and we're VERY happy to do that.

Here's why - we believe that encouraging and supporting the right people to start catteries is essential for 3 reasons:

Improving the welfare and lives of cats with knowledge & better standard catteries
Introduce more choice of caring, professional services that caring cat owners are desperate for
Help new cattery owners create businesses that are extremely successful - which rewards them personally and financially for the extra-special thought and care they've invested


Ah, so who are the right people to start catteries? Good question!

They are caring people who are willing to invest enough time and knowledge into their business to create the best cattery they can - deserve to have success, and, we believe - to have the support and encouragement to get started.

So now you know WHY we want to help you get started!
Customer comments:

Finding your website was a god-send!

Michele Duval Lane, Cognac, France (soon to be Toronto, Canada!) Oct 2006

I am an RSPCA Inspector so fully understand many of the aspects covered by the [kit] course. It was really useful however, to be reminded of all the different things to consider for such a business venture. Super website thanks. I have also purchased the book from Amazon



Amanda Lovett, Alsager, October 2006
... and 15 months later their cattery opened:

Thanks for your inspiration many months ago, we have finally done it! We opened last week and are now marketing, designing web sites etc etc. I noticed your reference to our business, thank you. We will do the same once my web skills improve a little more. If you wish to take a look, our website hit the web an hour ago!

Nic & Amanda Lovett www.meremoggies.com 28th January 2008
All the questions that are running through your mind right now will probably be based on 3 things:

Do I really want to start a boarding cattery and will I be good at it?
Will I be allowed to build one in my location and is it the right property? what regulations, qualifications, legislation or licensing do I need to find out about?
What makes a cattery good? How can I find out if this is a good area for a new cattery, and what is the market research, trends/statistics I should look at? How will my special/unique/different ideas for a cattery make me more successful?

And all this is going through your mind before you even start thinking about the building, design and care! That's why we LOVE what we do here, we get to speak to lovely caring people like Jill and help you start up your dream, completely transform your lifestyle, and help you make an INCREDIBLE difference to cats and their owners. Even better, we are there through your journey and can help you every step of the way.

I can tell you it's absolutely exhilarating when you get your building or licensing permission, your very first booking, and of course when you open your cattery doors to customers for the first time!!! And when you look back at your first year in business it is so much more satisfying to see that you've done in your 1st year what old standards say should be done in your 3rd year!

I don't want you to waste your time or money, so... unless you want to 'do it properly' and 'the best you can' - I can't help you. The magic formula of satisfaction, pride and success only works for those who want to do it well!

Doing things 'on the cheap' or 'without proper research' is NOT how to be successful!!! You won't realise your full potential (personal and financial), and customers will see this lack of interest and investment of emotion, time and money.

Catteries run like this will only be busy at peak times and charge the lower end of the scale, and have to spend more money on more and more units to make a basic income. You'll attract 'price-complainers' who just search for the cheapest cattery and still complain even then! They'll be the sort of people who will turn up without notice (early or late), give you a hard time on the phone/in person, be tough or even miserable to deal with - does this sound like fun to you?

This is a downward spiral - unfair to cats and owners - and the family - so look for something that will excite you to strive for the best and be successful. If you don't care enough about your business to invest and research it properly - why should your customers? There are already enough catteries like this around (and many going out of business thankfully).

If the above put you off, then I have done my job!!!
We only want to encourage the right kind of people to start up a cattery - those that want to do it properly, one that's much better than they have seen/used - and create a business that will provide higher standards to an untapped market.


USA: which would you prefer - a confinement cage or a whole room?
Can you guess which one would charge $10 per day, or $22 per day?
It doesn't sound like much per day, but for a 10 unit cattery this could
increase income by an additional extra $56,448 per year minimum!

UK: which would you prefer - chickenwire/timber or a solid room?
Can you guess which would charge £5 per day and which £12?
It doesn't sound like much per day, but for a 10 unit cattery this could
increase income by an additional extra £32,928 per year minimum!

The above 'differences' will apply in every country - the standard worldwide is poor, probably one of the reasons why you want to create a better cattery yourself!

Cat owners are desperate to find somewhere of high quality to entrust their cats to. Either that, or they just don't take a holiday!

Yes, there are people who don't care where their cats stay, or aren't bothered by poor conditions - or send their husband to take the cat as they can't bear to see where s/he will be staying - but there are already plenty of catteries to cater for that type of customer.
This isn't the sort of business you want to, or will attract when you do it right!

Just wanted to say a big thank you as the kit has really made me "sit up" and think about what I want. I'm just starting out on the road to the concept of my cattery and have a long way to go but at least I feel as though I've begun!

The kit has made me think about issues I hadn't considered, so I will ponder and think hard and do a lot of reading along the way! Once again, thank you very much and I'll keep you posted on my progress.

Kind Regards, Andrea Packwood
Hopefully, one day of "Wychwood Cattery" West Sussex, October 2007

You have to be genuinely interested, dedicated, even passionate about learning as much as you can on cat welfare, cattery standards, and have the imagination and care enough to do something better, or even extraordinary - providing such a fantastic service that customers will do your marketing for you and recommend you to all their friends! This is just the sort of person I can, and want to help!

If you 'want to do it right' (thankfully a phrase I hear often!) you will be so much more successful, happy, and financially better off.

You'll be able to charge higher fees that match your higher standards, so you can build less units and spend more time with the cats you are looking after. It's a job in a million!!!

Can you see how much more enjoyable and fun it will be to work this way?

You'll be successful - and you WILL make a better income! There just aren't enough catteries like this. I can tell you customers go in droves when they find such an inspiring, professional and caring cattery!
In fact, there are 10 burning questions that everyone starting a cattery should be asking (and we answer in the 'Starting a Cattery Kit'):
Where do I start? Is it right for me? (you're thinking about/ want to start a cattery but not sure if your own ideas will work)
Do I need a licence?
I'm in UK/USA/Canada/France/Australia wherever - what legislation applies?
Do I need qualifications or experience?
Do I need planning/zoning permission?
How do I find out more about the lifestyle?
Do I buy an existing property or build new from scratch?
Where can I buy a cattery, or property to build on?
Will my property be in a good location?
How do find statistics or market research & trends on starting a cattery?
... and here's one you probably haven't thought you'd be asked...
How do I prove the need for a new cattery in this area?
What makes a good/bad cattery? (I want to do something better/special)
If you would like to know more about these questions please click here for our FAQs
The demand for this information is such that we created a special, easy 'Kit' to help you through these first tentative steps.
... and once you know the answers and what's involved – your confidence will soar, and you can start to REALLY get excited!
---
Whether it is right for you
What standard of cattery you want to create
Whether you have the right location/property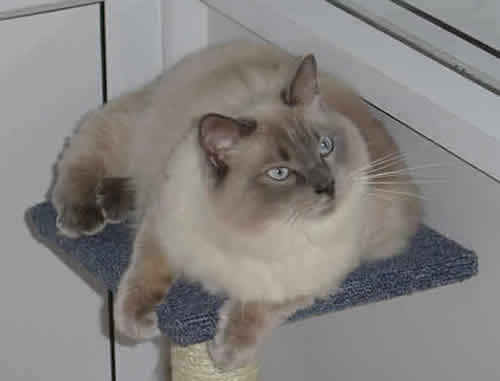 This Kit is a roadmap to thinking about - and - starting a cattery. That's not something you can find out from a few phone calls, or a few days training! It takes research time.

So having the right information at your fingertips - when you need it - WILL truly help you decide if it's right for you.

By the way, we call it a 'kit' because we wanted to emphasise how EASY we are making it for you!

Answers the 10 burning start-up questions above - get the ball rolling!
Alleviates the FRUSTRATION of not knowing where to begin
Helps you DECIDE if it's right for you
Brings you CONFIDENCE by knowing where you are, what you need to do
Available with INSTANT online access

ONLINE KIT
No waiting for the post!

IMMEDIATE Access!

---

Did you know that most people take 1-to-2 YEARS from just starting to think about a cattery, to actually getting it built?...

... but with this Kit you can reduce this by at least
3-to-6 months OFF your research time!

The Kit answers the questions you will be asking at the beginning - and instead of taking 3 to 6 months to find out all this information the hard way - you can find out right now -- and very easily!

The online section of the kit (which includes answers to the 10 top questions) will be available to you for 1 year, during which time you can print/save the information at any time you wish. In reality though, you'll need the kit for 1 week to 3 months to get started, but we made it a year to be on the safe side.

The advantage this Kit gives you is that you could make your decision to go ahead and get your start-up schedule within a week!

---

"I felt like you were talking to US!"

If it feels like we're talking to you directly, then that's because we are!
It's like having a marathon conversation with us, getting all the best tips and advice – but in a way that makes it easy for you to come back to, and find out in your own time and at your own pace.

We've taken all the 'start-up' questions, queries and phone calls we've had, all the examples and help we give and turned all that valuable information into this Kit.

Excellent brainstorming ! It really did get me thinking and help me grasp the different elements. I knew opening a Boarding Cattery was what I wanted to do - and this confirms this - but now I feel confident I can make it work.
THANKS !

(from Nadine Henchoz, Haute Savoie, France October 2006)




Excellent, very helpful and informative.

(from Allyson White, Cologne, Germany, October 2006)

With all the information here, you will get started on your own right now!
We've brought all the essential information to you to get you started and build your confidence.

Guaranteed to help you make your decision, give you confidence in what you're doing and show you the steps to get started! No more tearing your hair out trying to look things up on the web, wondering who you can/can't or should/shouldn't be talking to. No wondering whether you are getting the best advice or not!

I have enjoyed your website enormously.
Whilst reading through the site and completing your [kit] course I have contacted my [licensing officer] and they are sending their application forms and are arranging to come out to see the proposed site! I will also be ordering your book through Amazon

Karen Rogerson, Norfolk, UK, October 2006

So, if like Jill you "could do with some advice really" I'm sure you'll be interested to know what happened to her next... Well, with our help she became confident that starting a boarding cattery was right for her, and got the book to help her start her cattery. Her initial 'not a clue' email was quickly followed up with another, in which she told me she is "really getting into it now" and had "lots of ideas" about the kind of business she wants to run – and then she starts to ask about a business plan and the next stages!!!

But you're not at that stage yet - you need to walk through all the startup questions, and find out if it really is perfect for you by doing your research.

Your 'Starting a Cattery Kit' will take you through where to start --
help you actually make the decision -- and on to the excitement and enthusiasm of getting started!

(the excitement is palpable from Jill's words don't you think?!)

You too will have the thrill of getting going, having a plan of action, and knowing exactly what kind of business you want to run, and how to take those first important steps, and be in charge of your own cattery business and lifestyle.

And then the questions start... but at a more specific level and with much more confidence and a real sense of purpose. All you need to know is where to start!

This Kit will give you the guidance you need at this stage in your dream – it's easy to read and understand – and you'll have FUN learning more about yourself and what you want to achieve. That's a promise!

Wow! Thank you. You do boost the confidence levels!

Anna Nicholas, Mallorca, Spain

It was lovely to speak to you yesterday. Thank you so much for all the advice you have given me, I did indeed read the where to start bit first! and the downloads are fabulous, Im feel like Im reading for England but I want to be aware of as much as I can before I open my cattery

I really enjoyed the 'Where to Start', I think you have written it exceptionally well. It really made me think in depth about my own ambition to realise my dream, and to look at it from a realistic point of view

from Carol Crowhurst in Essex, UK on November 2006

Thank you very much Kay. We are currently in process of purchasing small cattery and I found
your website is very helpful
. Keep in touch !!

from Takako Diddams, Hertfordshire UK on February 2007
Remember that other people just don't have enough time to help you think through, make your decision, find your property and get started in this amount of detail...
...and that is exactly why we put this Kit together for you - so it's Q-U-I-C-K & E-A-S-Y for you to find out what you need to know!
Normal Price:

USA

UK

Canada

Euro

Australia

New Zealand

Special offer:
Our customers are worldwide. To check other currencies [click here]
Costing literally hundreds less than any cattery course or professional advice - and provides you with the essential information about starting a cattery and indepth, expert hand-holding that you just won't find anywhere else.
You get Immediate Access
Because your Kit is online (you just set up your own password to access it) - there's no waiting for the post, no paying for shipping - you can start your research right away online!
Your 90 day money-back Guarantee!
Take 90 days to use your Kit. If you are not satisfied that it has helped you decide whether starting a cattery is right for you or not, and how to get started - we will refund 100%! If you're not delighted to have all this start up information and help on discovering if it's right for you - at your fingertips, just call or email us within 90 days for a complete 100% refund. No questions. No hassles.
Even if you cancel, you will still get to keep the fantastic THREE free eBooks as my way of encouraging those who really are caring enough about dogs to get all the right cattery business start up information.
Ready to get started with your own Kit? That's great, but first I want to tell you about some more exciting incentives to seriously get your dream to build a luxury cattery or cat hotel underway...
... and you're going to LOVE this if starting a cattery is something you've already got butterflies about!



What I really want to encourage is for the right people to
start high quality, luxury catteries & cat hotels
with CONFIDENCE... and 3-6 months faster than normal
~
...so we'll have more great places for cats to stay



So, to encourage caring people to start up, I hope to make you feel like "the cat who got the cream(!)" with my 'encourage-the-right-people' limited special offer...
I'm adding these as an extra incentive to encourage you and get you off to the best start - as I really want to make sure you have everything you need to help you make the right decision and feel comfortable and confident with your choice, and also to right now guarantee the successful start of your cattery.
So... if you're one of the next few people to claim your 'Starting a Cattery Kit' I will do my utmost to encourage you to start up a high quality cattery or cat hotel by offering you these THREE fantastic bonuses absolutely FREE (valued at $700/ £350)
-- but yours FREE to keep, no matter what you decide:
Free eBook #1
(PDF)
This eBook will actually help you DECIDE if running a boarding cattery is right for you... AND start to pull together your ideas!
Nobody else does a questionnaire to assess cattery owner suitability to help you make your decision!
This "fill-in and complete" eBook looks at the next stages in MUCH more detail. Helps you think through the actual day-to-day elements of running a cattery, your vision for the type of cattery business you want to create, and gives you starter information to prompt you for all your image, marketing materials and website.

It will help you plan for and achieve the ambitions and ideals you have for your cattery into EVERYTHING -- the design, the image, your logo, your marketing materials and website, the customers you will attract, and how you want your cattery to run.

Worth $150/£75 but yours FREE with your 'Starting a Cattery Kit'!
Free eBook #2

Cattery Property Audit (PDF)

This "fill-in and complete" property audit will assist you when viewing and purchasing either an existing cattery business, new site OR your existing property - with a view to building a cattery. Coolheadedly compare ALL properties you visit for best price negotiation.
Nobody else does a survey for new/potential cattery property!



This is a survey report which includes tips, suggestions & encouragement to assess properties YOURSELF
for physical, practical, environmental, business, building or maintenance problems, potential costs and planning/ zoning permission characteristics.

Purely cattery-related property tips that a surveyor would NEVER KNOW to look for or be able advise you on!

Worth $500/£250 but yours FREE with the Kit
You'll know that just a normal 'home buyer' survey would cost more than double this - and this is the ONLY new build/cattery buyer survey available!
FREE with your 'Starting a Cattery Kit'
Free eBook #3

Buying or Selling a Boarding Cattery: HOT TIPS from a leading agent/ realtor! (PDF)

With over 21 years of helping people buy cattery and kennel businesses, and helping cattery owners sell their businesses - a leading cattery and kennel property sales agent is ready to reveal the hottest tips for buying an existing cattery business!
This information is from the Cattery Design book.

Find out what to look for when considering purchasing
Find out from the mistakes that buyers and sellers make
Find out what sorts of things go wrong when buying a property, and what to look out for
Discover how to make the most of your investment and show your business in the best light, whether you are buying or selling a cattery property
Discover how to look at seller lack of planning to negotiate your best price

Worth $50/£25 but yours FREE with your 'Starting a Cattery Kit'
Test the kit for yourself, let it help you make the decision about whether it is right for you to start up a cattery - with confidence, try out as many of the steps and recommendations as you like - in your own time. And once you realise the joy of having all the information you need on starting a cattery at your fingertips I'm confident you'll NEVER want to give that knowledge back!
We believe in this Kit being able to give you the answers you want so much that we offer this 90 day guarantee - because we KNOW it provides the answers you're looking for at this stage. And remember...


3 guaranteed eBooks, no matter what you decide!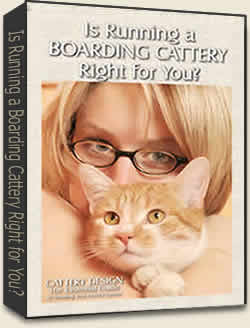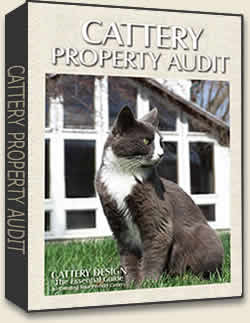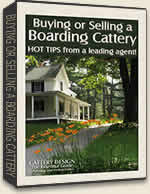 And if that doesn't encourage the right people to start up - please [tell me] what you think would!!!
I recently had this email and it demonstrates beautifully just how life-changing starting a cattery is,
and how helpful, motivating and confidence-building the Kit is in those first, early stages of getting started:

I wanted to thank you for putting together the wonderful "Starting a Cattery" kit. I've read through it several times, and have ordered Cattery Design and other recommended books on cat behavior and welfare from Amazon. I look forward to the publication of the other eKits you mentioned in this one, and will be purchasing the Business Plan as well.

My husband and I currently live in Seattle WA, and have three cats which we do not board because there are limited quality catteries in the area (so no vacations for us). Because I have one cat who is a diet-controlled diabetic with early-stage renal failure, I can't get even the good catteries in the area to accept him because he needs special care. I have always wanted to work with animals, but found through volunteering that shelters and vet hospitals were too emotionally draining for me... all those animals were sick, hurt, abused and terrified and there was little I could do for them except give a little love and keep the cages clean.

When I stumbled across your website, the light turned on big and bright. Here is a business that we can run well (plenty of business administration, computer & marketing experience between us), that focuses several of our passions, and allows us to make a positive difference in the lives of cats and cat parents. It also allows us to retire from the hectic suburban life, work for ourselves, and enjoy a peaceful, rural setting. We have been planning to move to northern New Hampshire, but kept running into the problem of what we would do for employment that didn't entail a long commute in adverse winter weather. We believe that building a holistic boarding cattery outside the White Mountains (a very busy ski tourism area) is our answer, and may even allow us to get out of Seattle a year or two earlier than expected with a good business plan.

I have Aspergers Syndrome, a form of high functioning autism, and have always gotten along much better with animals than people. I've never met an animal that didn't take to me within a few minutes of meeting me (even the ones who bite or hide from everyone else) - almost as if we had a empathic bond. One of the hardest things about having A.S, is that typical working environments are very difficult for me -- too much sensory input and too much interpersonal difficulty (much like how a boarded cat must feel!!!).
I do want to provide advanced care for special needs cats in my cattery because I've found those services desperately lacking even in higher quality boarding facilities.

Again, thank you so much for this wonderful resource and for providing a plethora of valuable information and pointers to even more resources. You've definitely helped us solidify that this is the right business for us... now comes the hard part of drafting the business plan and securing funding.

Best regards,
Jennine Wardle


29 November 2007 by Jennine Wardle, Seattle USA)
Find out if starting a cattery is right for you... and make your decision!

Find out where/how to get started with the top 10 questions

Reduce your research time by 3 to 6 months!

Your online kit is available for a whole year (and/or save it to your computer)
(if you want to, you can get going within a week of receiving your kit,
but just in case you want to take extra time, you can!)

Your 3 FREE eBook gifts are downloadable (PDFs) and yours to keep

Instant access!!!


Get INSTANT online access to your
'Starting a Cattery Kit'
for 365 days + 3 super FREE eBooks...


Secure with PayPal (no account required)
Paypal will convert to your currency
Wishing you every success for your future cattery.
Remember, we'll be here to help you, and that there are already oodles of caring cat owners who really want to find lovely new caring places for their cats to stay!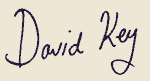 David Key
Author of Cattery Design: The Essential Guide to Creating Your Perfect Cattery
CatteryDesign.com
P.S: Just to remind you this price is a Limited Offer
3 FREE GIFTS (value $700/£350)
yours to keep, whatever you decide!
Remember there's no risk with our 100% 90 day Guarantee and the 3 fantastic FREE eBooks are yours to keep - it's our way of encouraging and helping the right people to start up a cattery! Remember the Kit will be a business expense - so keep your receipt so you can claim it back once your cattery is open.

You can instantly access the Kit online for a whole year - so you can take the first steps to starting your cattery right now. We've made it SO easy for you!

If there's other questions I haven't answered here, please look at our FAQ page (frequently asked questions) or you can find out more on us in our About us page
Other quick links: Cattery Kit cost - Buy your Cattery Kit now