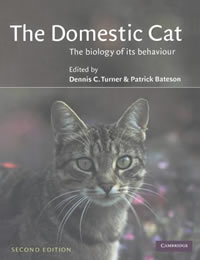 A 'must have' for the professional cattery owner
Welfare issues
Cat-to-cat communication
From pampered pets to feral hunters
Scientific studies and research, facts galore

The Domestic Cat:
The Biology of its behaviour
by Dennis C. Turner, Patrick Bateson
244 pages, paperback
Humans have lived with cats for thousands of years, and there are now more cats kept in western households than any other animal.

Cherished as companions, valued as rodent catchers, their enigmatic behaviour has intrigued and bewildered us for generations. Whilst accepting the comforts of human homes, cats do seem to 'walk by themselves'.
Although loved for their independence and self-reliance, myths and fables surround them, leaving them open to persecution and misunderstanding.

Covering all types of cats from pampered pets to feral hunters, this completely revised new edition of The Domestic Cat shows how cats live and behave in a variety of circumstances and surroundings.

With new chapters on welfare issues, and cat-cat communication, this volume penetrates the enigma that is Felis catus, sorting fact from fiction, and helping both the general reader and the specialist in animal behaviour or veterinary science to understand what cats really are.
Price: £18.99
(approx USA $33 | CA $38 | Eur €27 | AU $46 | NZ $53)